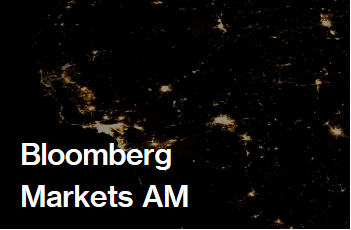 Additional interviews from the Bloomberg Markets morning radio show
Show Links:
---
Lisa Abramowicz has been writing about fixed-income markets for almost a decade. She is currently co-host of Bloomberg Markets from 10 a.m. to noon EST on Bloomberg Radio and a columnist with Bloomberg Gadfly, a fast commentary group aimed at providing insight and context to breaking news. She graduated from the University of Chicago.
---
---
Pimm Fox is co-host of "Taking Stock" on Bloomberg Radio weekdays from 2:00-4:30pm ET.

During his career at Bloomberg, Fox has interviewed numerous business chiefs and investment gurus including Berkshire Hathaway Chairman and CEO Warren Buffett.

Fox joined Bloomberg in 2006, after overseeing financial services coverage for the Dow Jones News Service in London. He also served as a guest commentator for CNBC and the BBC and has written for Barron's, The Wall Street Journal, Institutional Investor, Newsweek and The New York Times. Prior to joining Dow Jones, Fox held roles as the director of the Charles Schwab 'Smart Investor' Web site, West Coast bureau chief for Computerworld magazine.

Based in New York City, Fox received a bachelor's degree in architecture from Columbia University. He penned the "hometown news" while serving in the U.S. Navy.