Bloomberg Daybreak Europe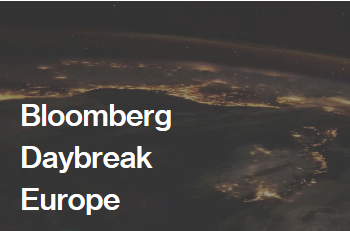 Overnight on Wall Street is morning in Europe. Bloomberg Daybreak Europe is anchored live from London and New York tracking breaking news in Europe and around the world. Markets never sleep, and neither does Bloomberg News. Monitor your investments 24 hours a day, around the clock from around the globe. Hosted by Caroline Hepker and Markus Karlsson.
Show Links:
---
Caroline Hepker anchors Bloomberg Radio's 'Daybreak Europe' programme, on-air live from 6-10am weekday mornings. Caroline launched the programme in 2015 with a new team in London who have now taken the programme onto London DAB digital radio in the UK.

Prior to joining Bloomberg in 2015, Caroline spent 15 years at the British Broadcasting Corporation as a Business Presenter and Reporter for BBC TV, radio and online.

Caroline presented business news programmes on the BBC Newschannel & BBC World News in London and spent 7 years based in New York as the BBC's US Business & Economics Reporter. Caroline also anchored the BBC's flagship business radio programme 'Wake Up to Money' on BBC Radio 5 Live and worked as a general news reporter for BBC London News on BBC1.

In the US, Caroline covered the 2008 financial crisis, the bail-out of US auto-makers, financial markets on the floor of the NYSE and institutions including the IMF and World Bank. Caroline spent much of her time travelling across North America reporting on business and economics for the BBC's global and UK audience.

Caroline Hepker is a graduate of the University of Bristol and is based in London.
---
---
Guy Johnson is the co-anchor of "Bloomberg Markets: European Open" on Bloomberg Television, covering top business, economic and market-moving stories from around the world. He is based in London.

Johnson brings nearly two decades of experience as a top financial broadcast journalist. He joined Bloomberg in 2012 from his role as an anchor at CNBC Europe. Earlier in his career, he served as an anchor and presenter at Financial Times Television and ITN (Channel 5).

Throughout his career, Johnson has covered major economic and corporate events including the collapse of Barings Bank, the Internet boom and the global banking crisis. Most recently, Johnson has been at the forefront of developments in the euro zone, reporting from Athens, Dublin, Lisbon, and Rome and attending pivotal leadership summits in Brussels. For his coverage of the euro zone crisis, Johnson has interviewed many key decision makers including Irish Taoiseachs Enda Kenny and Brian Cowan, former Greek Prime Minister George Papandreou, former Finance Minister George Papaconstantinou, the International Monetary Fund's Christine Lagarde as well as José Manuel Barroso and Olli Rehn from the European Commission.

Johnson has also reported extensively on the aerospace sector covering many of the industry's landmark events such as the development and first flight of the Airbus A380.

He holds a degree in politics and international relations from Lancaster University.
---
---
Nejra is a London-based Reporter and Anchor for Bloomberg TV and Radio. Nejra reports on financial markets on a daily basis, regularly breaking news and providing in-depth analysis on TV. She is an anchor on Daybreak Europe on Bloomberg Radio. She has also covered big events from Brexit to the Greek debt crisis. Her interviews include exclusives with Russian Central Bank Governor Elvira Nabiullina and Man Group CEO Luke Ellis, as well as interviews with UK Labour Leader Jeremy Corbyn and TUI CEO Friedrich Joussen.

Prior to joining Bloomberg, Nejra worked for the BBC. She has a PGDip in Broadcast Journalism from Cardiff Journalism School and a BA (Hons) in Classics and Modern Languages from the University of Oxford. She was shortlisted for an Asian Women of Achievement Award in the Media category in 2015 and has been named a We Are The City 2016 Top 100 Rising Star.
---
---
Manus Cranny is the co-anchor of "Bloomberg Daybreak Europe" on Bloomberg Television. He is based in London.

Cranny brings more than 20 years of business, finance and media experience to his role. A former markets reporter for CNBC Europe, Cranny joined Bloomberg Television in 2010 as an anchor and European markets editor, covering international equities, treasury bonds, commodities, forex trading and up-to-the-minute business news around the world.

He has broken many of the market's biggest stories, including the Publicis/Omnicom and Holcim/Lafarge mergers, worth $35 billion and €42 billion respectively. He has also interviewed a wide range of prominent figures in global business and finance, including former Greek Finance Minister Yanis Varoufakis, EU President Martin Schulz, UBS Group CEO Sergio Ermotti, RBS CEO Ross McEwan, Barclays CEO Jes Staley, Virgin CEO Richard Branson, world-renowned photographer Annie Leibovitz and iconic fashion designer Paul Smith.

Cranny began his career in boutique fund management for high-net-worth investors and went on to become a London-based institutional broker at First Chicago Bank (now part of JP Morgan Chase), covering futures, options, derivatives and bonds for institutional investors in the Middle East. He also worked as head of sales at MF Global's Private Client division in London and head of sales at Cantor Index, part of Cantor Fitzgerald L.P.

Cranny received a Bachelor of Science degree in Management from Queen's University Belfast.