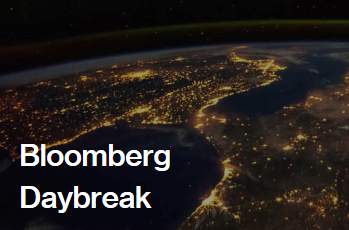 Bloomberg Daybreak provides listeners with everything they need to know as they start their day. Hear breaking economic, business and market news, as well as global, national, and local news and sports. Karen Moskow and Bob Moon host.
Show Links:
---
Bob Moon joined Bloomberg in 2013 after serving 12 years as senior business correspondent and New York bureau chief for public radio's Marketplace.

Moon spent two decades at The Associated Press, reporting from all 50 states and far-reaching international datelines. He delivered on-scene coverage from economic summits in Rome, Venice and Tokyo, a Mideast peace conference in Madrid, nuclear arms negotiations between Ronald Reagan and Mikhail Gorbachev in Iceland, and Ronald Reagan's visit to Moscow in 1988.

As White House correspondent for The AP's broadcast division, Moon witnessed Reagan's historic "Tear down this wall!" speech in Berlin, and provided extensive coverage of the Iran-Contra arms-for-hostages scandal that consumed months of his presidency. Moon covered national political campaigns and conventions over several decades (including George H. W. Bush's "Read my lips, no new taxes!" speech in 1988), traveled with Bill Clinton's campaign for the White House in 1992, and reported extensively on the impeachment proceedings against Clinton.

Moon tracked the U.S. space program for more than ten years, witnessing more than 50 shuttle launches and landings. (He described the disastrous launch of Challenger live and anchored six straight hours of special coverage.) He covered the tragic Columbine High School shooting rampage in Colorado and the mass evacuation of New Orleans residents to Houston after Hurricane Katrina. (His exclusive reporting of a remark by Barbara Bush, who suggested that the evacuees were "better off," sparked a widespread backlash.)

Moon also headed news departments for several radio stations in Utah and was lead evening anchor at WLEX-TV, the NBC affiliate in Lexington, Ky. He grew up in Southern California.
---
---
Karen Moskow is a news and business anchor for Bloomberg Radio, appearing daily on "Bloomberg - The First Word," "Bloomberg Surveillance," and "Bloomberg on the Economy." She also provides business reports to the many Bloomberg radio affiliates across the country.

Prior to joining Bloomberg Radio in 2006, Moskow served as a news anchor for Dow Jones/The Wall Street Journal Radio Network, Metro Networks, and numerous stations in the New England area. Moskow's reporting work has earned prestigious recognition, including an Associated Press award for special coverage following the 9/11 terrorist attacks for WBIX Boston.

Moskow is a graduate of the University of Massachusetts Amherst. She is based in New York City.