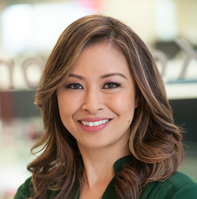 Live market coverage co-anchored from Hong Kong and New York. Overnight on Wall Street is daytime in Asia. Markets never sleep, and neither does Bloomberg. Track your investments 24 hours a day, around the clock from around the world. Hosted by Bryan Curtis and Doug Krizner.
Show Links:
Angie Lau is an award-winning global journalist and anchor for Bloomberg Television in Hong Kong.

As a seasoned financial news veteran, Angie has interviewed many leaders and influencers including her exclusive interview with one of Asia's richest men and legendary global business magnate Li Ka-shing, whom Angie convinced to do his first broadcast interview in a decade. Other interviews include: Canadian Prime Minister Justin Trudeau, Li & Fung Chairman William Fung, Japanese Contemporary Artist Takashi Murakami, Franklin Templeton's Chairman Mark Mobius, Victoria Beckham, and BlackRock CEO Larry Fink.


Angie came to Hong Kong from Bloomberg's Chicago bureau where she covered markets and business stories from the Chicago Board of Trade. Prior to joining Bloomberg in 2008, Angie was the consumer reporter and anchor for ABC News affiliate WEWS. Her work on the special projects team earned her an Emmy nomination for investigative journalism. The Society of Professional Journalists also awarded her the Excellence in Journalism Award for Investigative Reporting.

Angie also currently serves as President of the AAJA Asia Chapter, the biggest chapter in the Asian American Journalists Association (AAJA) with more than 250 members across APAC. She has spearheaded AAJA Asia's New.Now.Next Media Conference now in its seventh year, and continues to mentor and contribute to the professional development of journalists and communication professionals in the region. She was also co-director of AAJA J-Camp, which teaches journalism to scholarship students. Angie has also served as Correspondent governor on the board of Foreign Correspondents' Club in Hong Kong.

Born in Hong Kong, Angie was raised in Canada. Angie received her degree in journalism from Ryerson University in Toronto, Canada.