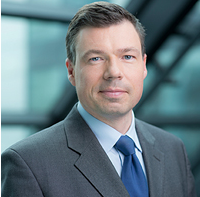 Overnight on Wall Street is morning in Europe. Bloomberg Daybreak Europe is anchored live from London and New York tracking breaking news in Europe and around the world. Markets never sleep, and neither does Bloomberg News. Monitor your investments 24 hours a day, around the clock from around the globe. Hosted by Caroline Hepker and Markus Karlsson.
Show Links:
Guy Johnson is the co-anchor of "Bloomberg Markets: European Open" on Bloomberg Television, covering top business, economic and market-moving stories from around the world. He is based in London.

Johnson brings nearly two decades of experience as a top financial broadcast journalist. He joined Bloomberg in 2012 from his role as an anchor at CNBC Europe. Earlier in his career, he served as an anchor and presenter at Financial Times Television and ITN (Channel 5).

Throughout his career, Johnson has covered major economic and corporate events including the collapse of Barings Bank, the Internet boom and the global banking crisis. Most recently, Johnson has been at the forefront of developments in the euro zone, reporting from Athens, Dublin, Lisbon, and Rome and attending pivotal leadership summits in Brussels. For his coverage of the euro zone crisis, Johnson has interviewed many key decision makers including Irish Taoiseachs Enda Kenny and Brian Cowan, former Greek Prime Minister George Papandreou, former Finance Minister George Papaconstantinou, the International Monetary Fund's Christine Lagarde as well as José Manuel Barroso and Olli Rehn from the European Commission.

Johnson has also reported extensively on the aerospace sector covering many of the industry's landmark events such as the development and first flight of the Airbus A380.

He holds a degree in politics and international relations from Lancaster University.