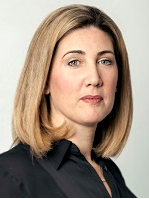 Overnight on Wall Street is morning in Europe. Bloomberg Daybreak Europe is anchored live from London and New York tracking breaking news in Europe and around the world. Markets never sleep, and neither does Bloomberg News. Monitor your investments 24 hours a day, around the clock from around the globe. Hosted by Caroline Hepker and Markus Karlsson.
Show Links:
Caroline Hepker anchors Bloomberg Radio's 'Daybreak Europe' programme, on-air live from 6-10am weekday mornings. Caroline launched the programme in 2015 with a new team in London who have now taken the programme onto London DAB digital radio in the UK.

Prior to joining Bloomberg in 2015, Caroline spent 15 years at the British Broadcasting Corporation as a Business Presenter and Reporter for BBC TV, radio and online.

Caroline presented business news programmes on the BBC Newschannel & BBC World News in London and spent 7 years based in New York as the BBC's US Business & Economics Reporter. Caroline also anchored the BBC's flagship business radio programme 'Wake Up to Money' on BBC Radio 5 Live and worked as a general news reporter for BBC London News on BBC1.

In the US, Caroline covered the 2008 financial crisis, the bail-out of US auto-makers, financial markets on the floor of the NYSE and institutions including the IMF and World Bank. Caroline spent much of her time travelling across North America reporting on business and economics for the BBC's global and UK audience.

Caroline Hepker is a graduate of the University of Bristol and is based in London.