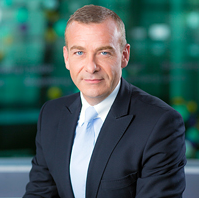 Overnight on Wall Street is morning in Europe. Bloomberg Daybreak Europe is anchored live from London and New York tracking breaking news in Europe and around the world. Markets never sleep, and neither does Bloomberg News. Monitor your investments 24 hours a day, around the clock from around the globe. Hosted by Caroline Hepker and Markus Karlsson.
Show Links:
Manus Cranny is the co-anchor of "Bloomberg Daybreak Europe" on Bloomberg Television. He is based in London.

Cranny brings more than 20 years of business, finance and media experience to his role. A former markets reporter for CNBC Europe, Cranny joined Bloomberg Television in 2010 as an anchor and European markets editor, covering international equities, treasury bonds, commodities, forex trading and up-to-the-minute business news around the world.

He has broken many of the market's biggest stories, including the Publicis/Omnicom and Holcim/Lafarge mergers, worth $35 billion and €42 billion respectively. He has also interviewed a wide range of prominent figures in global business and finance, including former Greek Finance Minister Yanis Varoufakis, EU President Martin Schulz, UBS Group CEO Sergio Ermotti, RBS CEO Ross McEwan, Barclays CEO Jes Staley, Virgin CEO Richard Branson, world-renowned photographer Annie Leibovitz and iconic fashion designer Paul Smith.

Cranny began his career in boutique fund management for high-net-worth investors and went on to become a London-based institutional broker at First Chicago Bank (now part of JP Morgan Chase), covering futures, options, derivatives and bonds for institutional investors in the Middle East. He also worked as head of sales at MF Global's Private Client division in London and head of sales at Cantor Index, part of Cantor Fitzgerald L.P.

Cranny received a Bachelor of Science degree in Management from Queen's University Belfast.